16 Nov. → 25 Nov. '18Huddersfield, United Kingdom
---
Huddersfield Contemporary Music Festival 2018
hcmf// is the UK's largest international festival of new and experimental music. The annual, international festival of contemporary and new music takes place over 10 days and consists of approximately 50 events, including concerts, music theatre, dance, multimedia, talks and film. hcmf// is a platform for numerous debut artists and presents an opportunity for international performers to be heard in the UK.
Dutch Performing Arts and hcmf// have started a three-year partnership which will bring leading new music performers, composers and Netherlands-based international projects to audiences at the festival. In the first year of the new partnership the festival presents 10 concerts with Netherlands-based musicians and composers.

Pieter Zeeman, Programme Director of Dutch Performing Arts: "The Netherlands and hcmf// have a long-standing and warm relationship. Even after considerable budget cuts, including the closure of Music Centre the Netherlands, hcmf// kept the exchange going. Dutch Performing Arts is very excited to give a new boost to the collaboration."

Artistic Director of hcmf// Graham McKenzie: "In 2006 hcmf// formed its very first international partnership – with Gaudeamus Muziekweek. Now, in 2018, and at the beginning of the festival's welcome new relationship with Dutch Performing Arts, there is a whole new generation of Dutch artists, composers, ensembles and musicians coming through. Within this new arts infrastructure in The Netherlands there's a strong desire to try and make sure that those artists get out there and get noticed internationally. We at hcmf// think that our festival will help to provide that platform as well as nourishing our audience."

Check out our interview with Graham McKenzie: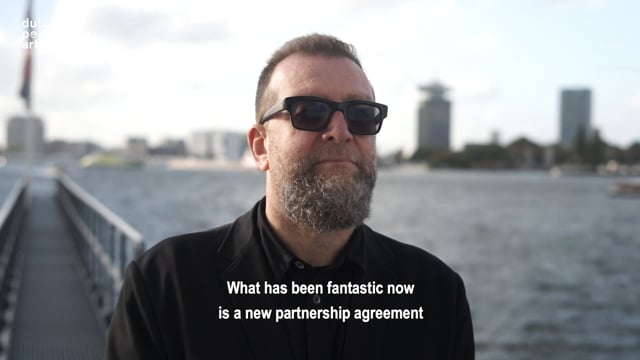 Dutch programme
This year the festival presents an unparalleled lineup of Dutch artists.
An accomplished pianist whose career has been spent in search of nonconformist works,
Reinier van Houdt
interprets graphic scores by hcmf// Composer in Residence Christian Marclay, and restlessly inventive electric guitarist
Aart Strootman
and 'chamber metal' band
TEMKO
reimagine Terry Riley's iconic work 'Shri Camel' on new instruments built for the occasion.
Marco Blaauw's The Monochrome Project
brings together seven trumpets and a speaker to give the UK premieres of two works by one of experimental music's most adventurous voices, the American composer
Anthony Braxton
.
MUTED
is a collective work by four composers, including
Louis Andriessen
, written in sympathy for performer
Monica Germino
. Suffering from hearing problems, the violinist has been incapable of playing her usual repertoire due to its loud volume. This multi-layered performance deconstructs solo concert conventions and considers our vulnerable relationship with sound.
A master of minimalism and sometime member of New York Bang on a Can collective,
Tom Sanderman
performs at hcmf// as both solo saxophonist and as a member of the experimental
Ensemble Vonk
.
Kluster5
, with its unorthodox assembly of instruments and wayward influence from both jazz and pop, prove their versatility, performing five contrasting pieces written for them by emerging composers.
Netherlands-based accordion duo
TOEAC (Pieternel Berkers
and
Renée Bekkers
) are dedicated to the possible experimental techniques of their instruments. In their hcmf// concert they join forces with Amsterdam-based Scottish composer
Genevieve Murphy
to give the UK premiere of her thoughtful new work 'the one I feed'.
The Hague-based
Ensemble Klang
are a virtuosic group with curatorial interests who work closely with composers, and also run their own label. The ensemble join forces with composer and sound artist Matt Wright for their performance at hcmf//'s latest, coolest venue, Magic Rock Tap Room.
Operadagen Rotterdam
and
November Music
co-commissioned several pieces together with hcmf//.
More information
For the full festival programme, visit the
hcmf// website.
Video by Robbie van Zoggel