26 Jan. '21
In 2019 and 2020, the Never Grow Up! programme presented Dutch film, literature, (music) theatre and dance for young audiences throughout the US. Check out our recap video of this exciting multidisciplinary programme.
Remarkable work from the Netherlands wowed and delighted both children and their families, and presenters and agencies at renowned events and venues including the Brooklyn Academy of Music, John F. Kennedy Center for Performing Arts, the Chicago and New York International Children's Film Festivals, and the Bay Area and Brooklyn Book Festivals.

A wave of Dutch artistry was showcased in the form of live performances, film screenings and book presentations. Then, in response to the COVID-19 pandemic as in-person events were no longer possible, some of the planned activities were re-worked into online presentations and virtual field trips.

Watch our recap video: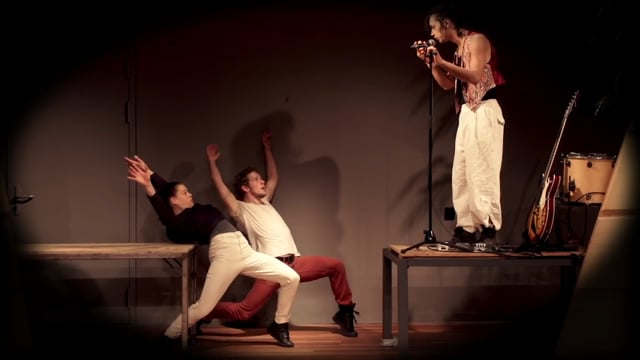 To name just a few of the programme's highlights:
Never Grow Up! kicked off at IPAY Showcase in January 2019 in Philadelphia, presenting eight youth theatre and dance companies.

Music theatre company Oorkaan performed their award-winning toddler production 'Glimpse' at BAM, the Brooklyn Academy of Music in New York, in a series of 12 concerts for families and students audiences.

Kennedy Center presented a season-long Dutch focus, bringing the work of five music, theatre and dance companies to families and student audiences. When two of the Dutch companies were faced with travel restrictions due to COVID-19 and Kennedy Center was unable to open for in-person events, they re-worked their live shows into engaging virtual experiences.

We would like to extend a huge thank you to our US partners who helped put Dutch arts for young audiences on the radar. We're also looking forward to continuing our treasured conversations about opportunities for collaboration and exchange.
Never Grow Up! is a joint effort of Dutch Performing Arts,
Dutch Culture USA
,
Eye International
,
Netherlands Film Fund
,
Cinekid
,
Dutch Foundation for Literature
, and
DutchCulture
, aiming to stimulate the dissemination and visibility of Dutch arts for young audience as well as cultural exchange and partnerships with renowned US-based presenters and organizations.
For an overview of all activities of the Never Grow Up! programme, visit
DutchCultureUSA.com/NeverGrowUp
.