7 Dec. '20
The Jazz Promotion Network has collated the results of its Going Dutch project which, with the support of Dutch Performing Arts, facilitated concerts and tours by Dutch jazz musicians across the UK and Ireland. The project's aim was to increase awareness of the Dutch scene and to foster international collaborations.
Dutch Performing Arts commissioned the
Jazz Promotion Network
(JPN) to coordinate the focus programme Going Dutch to support Dutch jazz musicians and/or groups to perform and tour in the United Kingdom and Republic of Ireland. The project consisted of an umbrella campaign, invitations for jazz promotors and journalists to every concert and, under certain conditions, also support for travel and accommodation.
Check out the video below for a summary of the scope and reach of the project, and
this detailed report
on all aspects of the project.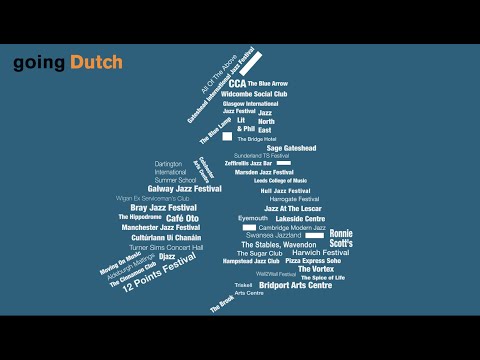 What was accomplished in four years of Going Dutch
Beginning in 2016, when the first of 42 promoters visited Dutch festivals and events including North Sea Jazz, ZomerJazzFietsTour in Groningen and the annual InJazz meeting in Rotterdam, all courtesy of Dutch Performing Arts, JPN programmers and bookers had unprecedented opportunities to investigate the diversity of music that the Dutch scene supports.
Over the next three years, musicians of widely differing styles toured to 43 cities and towns of varying sizes. Participants ranged from the intrepid founders of the Dutch improvised music movement, the
Instant Composers Pool
to the jazz-funk styled
Tristan
, and from leading European grand piano adventurer
Kaja Draksler
to the idiosyncratic embracers of mobile phone technology and current affairs,
Tin Men and the Telephone
.
The 105 gigs that resulted took contemporary Dutch music to Derry/Londonderry and Cork, as well as Belfast and Dublin, to Eyemouth in the Scottish Borders as well as Aberdeen and Glasgow, and from Newcastle and Gateshead to Sheffield, Wigan, Harwich, Colchester and Dartington and points in between.
"We wanted to show that London isn't England and that England isn't the UK, as often seems to be the impression given by tours," says Nod Knowles, who coordinated the project on behalf of the JPN. "We were also keen to foster relationships between musicians from the Netherlands and the UK & Eire. So we were pleased to see collaborations between trumpeter
Eric Vloeimans
and pianist Joanna MacGregor and between saxophonist Faye MacCalman, violist
Ig Henneman
and guitarist
Reinier Baas
."
Two other collaborations that have potential for further development are the Manchester Jazz Festival commission Both Sides of Africa by
Nani Noam Vazana
, which saw the singer and multi-instrumentalist working with Manchester-based cellist Abel Selacoe, and LoLanders, a Scottish-Dutch sextet that has already performed in the Netherlands after making its debut at Celtic Connections in Glasgow and going on to tour last summer.
"Although the central idea was to familiarise audiences in the UK and Eire with what's happening in the Netherlands, we wanted to try and help musicians from over here export their talents," says Knowles. "The two scenes are quite different, with different expectations in terms of fees, for example, and we feel we've been able to give Dutch musicians good information about working in the UK and Eire while at the same time giving musicians from our side an introduction to the Dutch scene that can hopefully lead to something more lasting."
Before the enforced lockdown due to COVID-19, there were signs of Going Dutch's continuing benefits as
Under the Surface
, featuring vocalist Sanne Rambags, guitarist Bram Stadhouders and drummer Joost Lijbaart, planned a follow-up UK tour and guitarist Graeme Stephen, violist
Oene van Geel
and bassist
Mark Haanstra
, in a spin-off from LoLanders, had dates booked in the autumn.
"Everything's had to be put on hold as far as live gigs are concerned, as everyone knows," says Knowles. "But we're hopeful that, in time, bands will get back on the road and the exciting music that Going Dutch gave a platform will pick up where it left off."
Susanne Moed, programme manager at Dutch Performing Arts, is pleased with the project's results and is looking forward to future collaborations and gigs. "It's incredible to look back at the abundance of wonderful concerts that took place in so many different places in the UK and Ireland. I am even more proud of the strong and lasting relationships that were fostered between musicians and presenters, which will continue to bring forth exciting gigs and collaborations, even after Going Dutch has come to an end.
In these uncertain times, marked by the COVID pandemic and Brexit, there's an even greater need for a solid foundation. And although this this project has come to a conclusion, Dutch Performing Arts will continue to invest in the ties between the Netherlands and the UK, and the Performing Arts Fund NL offers a variety of opportunities to support Dutch performances abroad."
Although the major Going Dutch project has come to an end, both Dutch Performing Arts and JPN intend to maintain their links and hope to help facilitate future visits and collaborations as and when they become possible.
Further information and statistics on Going Dutch are available by emailing
goingdutch@jazzpromotionnetwork.co.uk
or by visiting the
JPN website
.
Text: Jazz Promotion Network